Rachelle N. Ponist
Managing Partner
Meet Attorney Rachelle N. Ponist, an experienced litigator from Zionsville, Indiana who represents clients in various legal areas such as family law, estate planning & probate, general civil litigation, and civil and family appeals.
Rachelle's passion for law began early on in her academic career when she attended Indiana Wesleyan University, where she graduated Magna Cum Laude with a Bachelor of Science Degrees in Public Relations and Political Science Pre-Law. During her time in college, Rachelle was a four-year student-athlete on the Women's Soccer team, where she received the NAIA Champion of Character Award and numerous Scholar Athlete awards. These experiences honed her skills in teamwork, leadership, and perseverance, which she now applies to her legal practice.
After her undergraduate studies, Rachelle decided to pursue her dream of becoming a lawyer and attended Indiana University McKinney School of Law, where she was a member of the Deans Tutorial Society. After gaining invaluable experience at a local small firm, Rachelle decided to take the leap and start her own law firm in 2016. Rachelle's decision to start her own practice was driven by her desire to provide a more personalized, team-based, and client-focused legal service. As a firm owner, she is committed to building strong relationships with her clients and providing them with the attention and care they deserve. Her experience in a small firm setting taught her the importance of working closely with clients and understanding their unique needs and goals.
With years of experience under her belt, Rachelle has developed a reputation for being a skilled and dedicated litigator who tirelessly advocates for her clients' best interests. Rachelle has a deep passion for serving families with their legal needs. She understands the complexities and emotional challenges that come with family law cases and is committed to providing compassionate, collaborative, and effective representation. For Rachelle, helping families navigate through difficult times and achieve positive outcomes is the most rewarding aspect of her legal practice. She has dedicated herself to the areas of law that touches every family unit, gaining extensive experience in divorce, child custody, child support, adoption, estate planning, and dealing with the estate of loved ones. Rachelle is committed to listening to her clients, understanding their unique situations, and providing them with the best possible solutions. Her goal is to minimize the stress and anxiety that often comes with family law cases and guide her clients towards a brighter future. Rachelle's passion for serving families with legal needs is rooted in her belief that everyone deserves access to justice and that strong families are the foundation of thriving communities.
Outside of her legal work, Rachelle is passionate about spending time with her family and friends, especially her husband, who is also a partner in the firm, and their two children. She is a sports enthusiast and still enjoys playing soccer competitively and coaching.
In summary, Attorney Rachelle N. Ponist is a highly accomplished and well-rounded lawyer who brings dedication, skill, creativity, and passion to her work. Whether in the courtroom or on the sports field, Rachelle always strives for excellence and the best outcomes for her clients.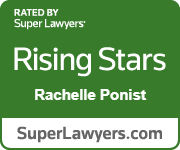 Education
J.D., Indiana University Robert H. McKinney School of Law
B.S., Indiana Wesleyan University – Marion, Indiana
Public Relations and B.S./Political Science Pre-Law
Jurisdictions Admitted to Practice Indiana, 2013

Professional & Bar Association Memberships
Indianapolis Bar Association
Awards
2023 Indiana Rising Star