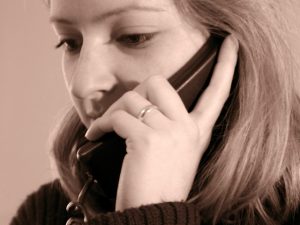 Reporting Child Abuse Indiana has a simple statutory requirement to report abused or neglected children. Indiana Code § 31-33-5-1 provides:
[A]n individual who has reason to believe that a child is a victim of child abuse or neglect shall make a report as required by this article.
The report may be written or oral, and it may be made either to the Indiana Department of Child Services (DCS) or to a law enforcement agency. Indiana Code § 31-33-5-2. DCS operates a toll-free hotline, 1-800-800-5556, that accepts reports of child abuse or neglect 24 hours a day. DCS allows these reports to be made anonymously. Knowingly failing to report one's belief that a child is a victim of child abuse or neglect is a Class B misdemeanor. Indiana Code § 31-33-22-1.
The reporting statute seems short and simple, yet it is surprisingly broad.
A "child" is anyone under the age of 18. The precise definition of "child abuse or neglect," found at Indiana Code § 31-9-2-13, is long, broad, and complicated. The situations that constitute child abuse or neglect include, among others:
The child's physical or mental condition or health is seriously impaired or seriously endangered because the child's parent, guardian, or custodian is failing to provide the child with necessary food, clothing, shelter, medical care, education, or supervision.
The child is a victim of any of several crimes, including various categories of battery; conspiracy or attempt to commit one of several categories of homicide; several categories of sex crimes, including rape, child molestation, child exploitation, child seduction, sexual battery, and sexual misconduct with a minor.
The child is a victim of human or sexual trafficking.
The child's parent, guardian, or custodian allows the child to participate in an obscene performance or to commit a sex offense.
"An individual" is almost as broad as it sounds. Essentially anyone who has a reason to believe a child is abused or neglected has an obligation to report. The statute does not even limit the duty to report to adults. The only exception is for the staff of hospitals who, as explained below, have a different reporting obligation. The obligation is not limited to teachers, pastors, counselors, health care providers, or others that may be more likely than most people to encounter child abuse and neglect. The laws in some states create categories of "mandatory reporters" or "discretionary reporters." Not so in Indiana. Everyone in Indiana is a mandatory reporter.
The law does not restrict the reporting obligation to people who know about child abuse or neglect. If you have any reason to believe a child is abused or neglected, you must report, and you must report immediately, not after taking the time to confirm your belief. Immediately means immediately.
An individual is relieved of the obligation to report if, to the best of his or her belief, a report has already been made. If a group of individuals becomes aware of an abused or neglected child at the same time, the law does not require a report from each of them. One is enough, if the other individuals believe one report has been made.
I have many friends who have careers in healthcare or education, and they may want to take note here. Before July 1, 2017, a member of the staff of a medical or other public or private institution, school, facility, or agency could satisfy his or her obligation by reporting to the person in charge of the institution, school, facility, or agency or to a person designated by the person in charge. Effective July 1, 2017, that now applies only to hospital staff. Now all others, such as teachers, have an individual obligation to report that cannot be satisfied by reporting to someone else within the institution, school, facility, or agency.
What if it turns out the report is wrong, that there's no child abuse or neglect? There are, in fact, consequences for intentionally making a false report. Doing so is a Class A misdemeanor and exposes the false reporter to liability, including liability for punitive damages, to the person falsely accused.
That applies only to intentionally making a false report. Honest mistakes are treated very differently. The statute provides immunity from civil liability for anyone who makes a report, even if it turns out to be false, unless the report is made through gross negligence or willful or wanton misconduct. Moreover, an individual who makes a report has the benefit of a presumption that he or she acted in good faith.
Finally, Indiana case law includes an example that underscores the importance of reporting immediately. In Smith v. State, 668 N.E.3d 668 (Ind. 2014), the Indiana Supreme Court upheld the conviction of a high school principal who reported the alleged rape of one student by another slightly more than four hours after he learned of it. In the intervening period, the principal conducted an investigation and spent time on routine administrative tasks. The Supreme Court held, "[I]t is not the school administrator's responsibility to investigate. That responsibility is firmly placed with DCS and law enforcement." Although the Court did not dwell on it, the analysis may have been influenced by the fact that the principal could have easily and quickly reported to the law enforcement officers who were on campus, providing security. Although Justice David, who wrote the opinion of the Court, acknowledged that the possibility of making a false report is a legitimate concern, he pointed out that the statute protects those who report in good faith, even if the report turns out to be inaccurate.
If you have been charged with violating the crime of violating the duty to report child abuse or neglect, please feel free to contact one of our criminal defense attorneys.
[Correction: The original article stated that failure to report is a Class B felony. The article has been corrected to state that it is a Class B misdemeanor. 4/3/2019]